Maintenance Release: May 13th, 2022
Build:

clustercontrol-controller-1.9.3-5451

Controller:

Address an issue where pg_backrest created the directory /home/pgbackrest. It now uses /var/lib/pgbackrest instead (CLUS-1173)
Address an issue with warnings of a non-existing maxscale1.log file (CLUS-1246)
Address an issue with Microsoft SQL Server deployment due to the failure of creating a SA user (CCv2-281)
Initial Release: May 11th, 2022
Build:

clustercontrol-1.9.3-8303
clustercontrol-controller-1.9.3-5439
clustercontrol-cloud-1.9.3-350
clustercontrol-notifications-1.9.3-310
clustercontrol-ssh-1.9.3-122
clustercontrol2-0.6.0-425
With our second major release of ClusterControl in 2022, we are excited to introduce support for the community edition of Elasticsearch 7.x and 8.x. It's one of the most popular open-source full-text search and analytics engines on the market today and provides near real-time search and analytics for any kind of data, whether structured or unstructured.
In this initial version, you can use Elasticsearch with single node deployment for development or use it for production in a clustered deployment complete with backup management and scaling.
ClusterControl v2 (new web frontend) is becoming more feature complete and we have added support for Elasticsearch, MySQL Galera, PostgreSQL, TimescaleDB, and MongoDB Replicaset.
We still have some ways to go, however more of the core features to manage our full range of supported database technologies are becoming available to use.
In ClusterControl v1's web application there is now a dedicated audit log page to track user and system activities for increased security and compliance.
Features
Elasticsearch 7.x, 8.x
Full-text search and analytics engine.

Deploy one node for test or development environments
Deploy three or more nodes for clustered deployments with master or data roles
Basic User Authentication with username and password
TLS/SSL API endpoint encryption
Backup Management with local storage repository
Scaling out or in master or data nodes

Current limitations:

No cloud storage (object) repository
No dashboards/performance charts
Only Ubuntu 20.04 and RedHat/CentOS 8 are supported
Configuration files management and Upgrades are not supported at this time
Audit Logging
The new Audit Log page is accessible via the Activity → Audit Log (ClusterControl v1 web frontend) and Activity Center (ClusterControl v2 web frontend)
Activities tracked:

User authentication, cloud credentials, database configuration, and users changes
CMON configuration changes and jobs
CC user management changes (Users and ACLs), operational report

New CMON audit log configuration parameters

audit_logfile, default log filename (/var/log/cmon_audit.log)
audit_ignore_users, skip default users (system, ccrpc).
Miscellaneous
Streaming backups with xtrabackup can now be compressed with the addition of new CMON configuration parameters (no frontend at this time)

xtrabackup_compress_threads, xtrabackup_parallel, xtrabackup_manual_args

The cluster overview in ClusterControl v1 application is now using data from the Prometheus server (if available)
Delete local backup after cloud upload
New bootstrap option when starting Galera nodes
ClusterControl v2
Deploy/Import and manage MySQL Galera, PostgreSQL, TimescaleDB and MongoDB Replicaset clusters

Backup management, Cluster, and node actions
Dashboards/performance charts for database and load balancers

Deploy/Import and manage HAProxy with Keepalived

HAProxy status/performance node page

SSH host health-check to verify SSH connectivity
Multiple maintenance modes
Rebuild node for Microsoft SQL Server nodes
FAQs
Q: How can I start using Elasticsearch?
A: Please follow the instructions outlined in the Getting Started with ClusterControl v2 to install ClusterControl v2 and then use the Service Deployment wizard to deploy an Elasticsearch cluster.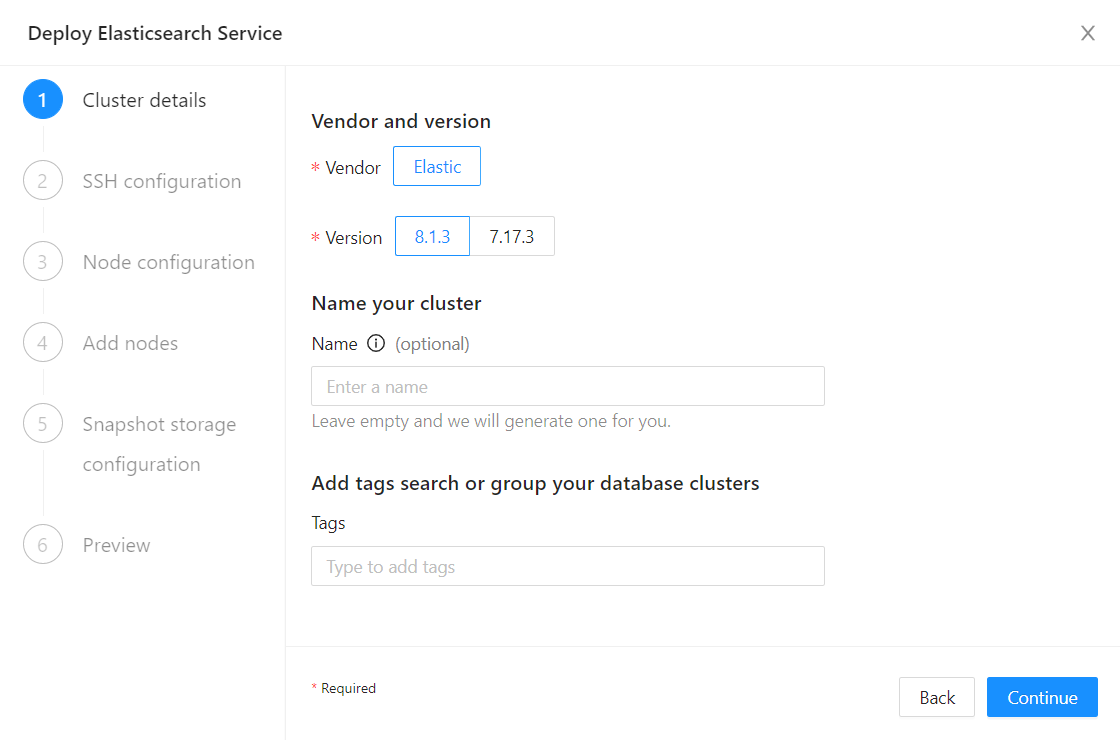 Q: Can I separate the location of my Elasticsearch master and data nodes?
A: Yes, you can separate the master and data nodes to be on different hosts.
Q: What are the minimum requirements for a clustered Elasticsearch deployment?
A: Yes, you can separate the master and data nodes to be on different hosts.
You need:
At least three nodes in the master role
At least two nodes in the data role
At least two nodes of each role; master and data
Q: Can I rebuild an Elasticsearch node?
A: No there is no need, the Elasticsearch cluster automatically partitions the dataset across all available data nodes. You can remove and add a data node if you need to for example terminate and relaunch the VM the node runs on.
Q: Can I deploy other load balancers like ProxSQL with ClusterControl v2's web application?
A: Not yet with this release, unfortunately. We are working on adding the remaining supported load balancers and connection pooling. Expect it to be available in an upcoming release of the ClusterControl v2's user interface.
ProxySQL
MaxScale
Garbd
PgBouncer